Overview
Delivery and Shipping
Care Guide
CUSTOMER REVIEWS
Overview
The mobile features three clouds with raindrops and a rainbow in the centre with stringed stars. Each of the elements are attached to the wooden armature using cotton thread. Mobiles are best suited for newborn babies till they're around 6 months. They should be placed well out of arm's reach of your baby. Product Features: - Hand stitched mobile toys using premium quality felt fabric. - Embellished with small felt cut outs & threadwork details. - Gender neutral design. - Rotating mobile; the hanging toys spin slowly, helping in baby hand-eye co-ordination. - Musical mobiles help keep your baby calm, easily putting them to sleep. - Perfect for themed nursery décor. - Makes a great new born baby shower gift. - Each mobile comes with a detailed, hand illustrated step-by-step installation guide.
Delivery and Shipping
- It takes 4 days to make and dispatch this product from our warehouse.
- Shipping will take 2 to 4 days for Metro Cities and 3 to 7 days for all other locations.
Care Guide
Spot clean with a soft, damp cloth when needed
ATTACHING THE MOBILE TO YOUR COT
ARM ATTACHEMENT
Our arm is designed to fit most cribs, incase you have any doubt you can message us and one of our experts will be there to check and guide you.
ATTACHMENT OPTIONS EXPLAINED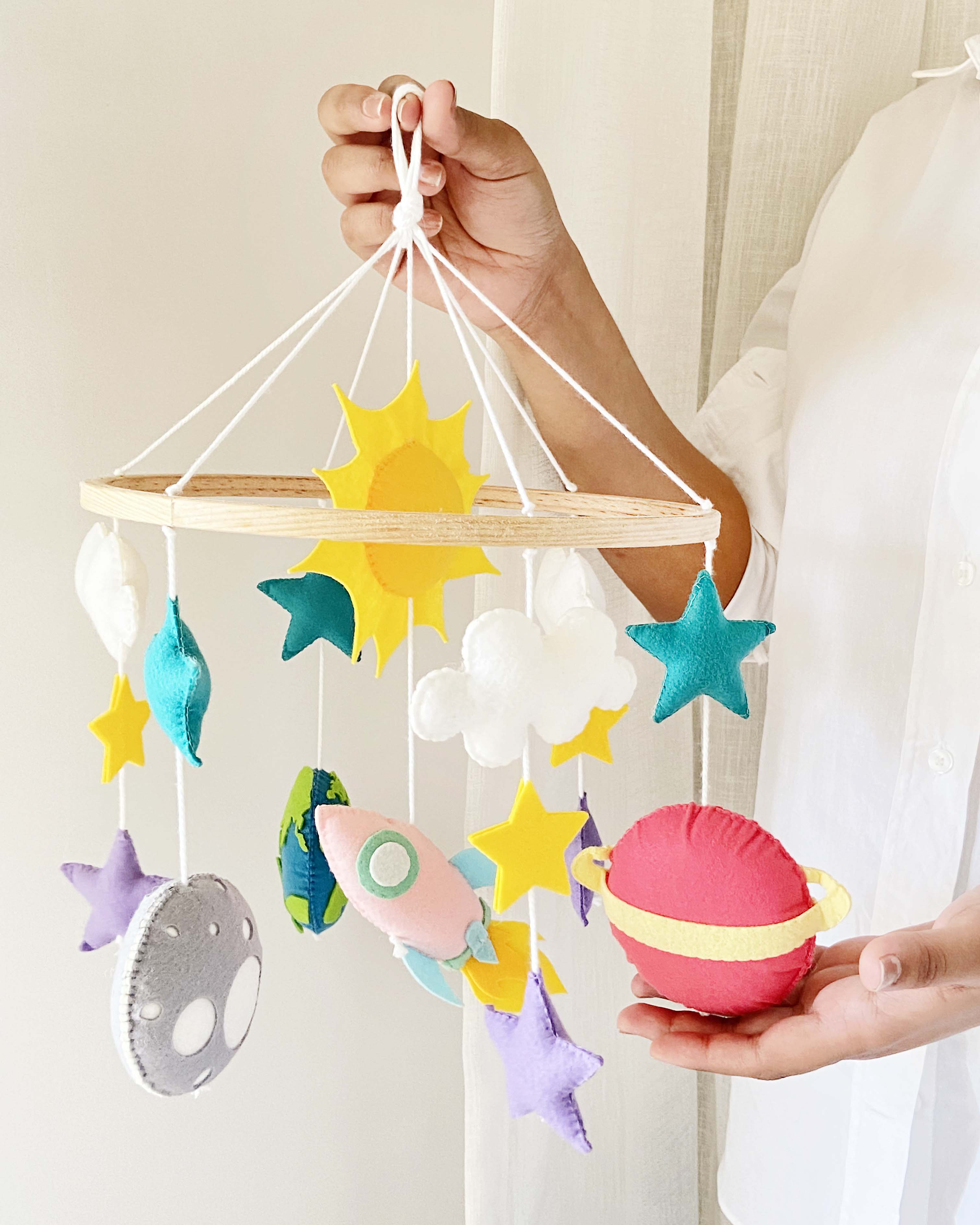 Hanging Only
With this option you get the adorable hand made felt pieces attached to the ring or crossbar. Pick this option if you intend to hang the mobile from the ceiling or already have an arm attachment. 
Arm & Manual Music Box
With this option you get the arm attachment for your crib along with a manual winding music box which has one tune. You need to turn the knob to wind the music box for it to play music and rotate the mobile.
Arm & Battery Music Box
With this option you get the arm attachment for your crib along with battery music box which has 35 tunes. The music box works on standard 2 AA batteries.